Getting Around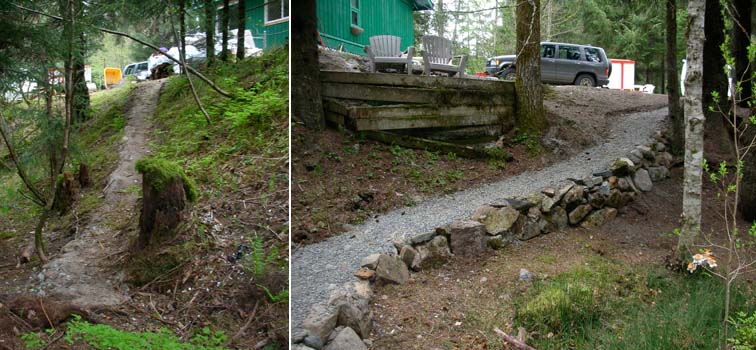 After a short time of hauling brush it became obvious that we needed pathways to get from the creekbeds up to the driveway. Two things made the need apparent: the difficulty of trying to carry brush up the steep hillside, and realizing that the plants living on the hillsides didn't like the abrasion of feet and branches going over them.
The trail on the left was built on Mother's Day. I [Michael] decided to build it after watching a short segment on television concerning building stone walls. There is in fact a small rock wall under a short section of the trail. The trail on the right went in last weekend and was a much more concerted effort, involving a lot of rock work to make the trail wide enough for the two-wheeled wheelbarrow.
The two new trails make it much easier to get up and down the hills, a point the kids are especially happy about. The adults are also happy with the result.
Nope, these projects don't do anything for the house itself, but they do improve our enjoyment of the place. They were a lot of fun too.