Visitors to the Ponds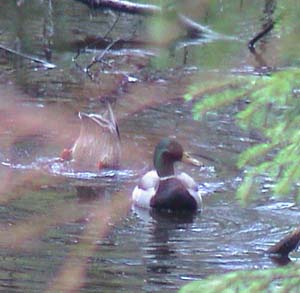 We had some visitors to our ponds this morning. They were very reclusive and flew off when little Michael and I [Michael] came toward them. I hope they come back, but I have to doubt that they'd find very much to eat in there; perhaps I can encourage something to grow in the ponds that will entice them to return and stay, but I guess that should be low on the priority list.
We were also playing with the still picture capability on my digital camcorder. Despite the age of the camera and the small (by today's standards) 1.3 megapixel size, it is still better than our new digital still for telephoto work, such as the pictures of the ducks (the new camera's larger format doesn't make up for the meager zoom they put on it, as with most still cameras). The camcorder also does a better job in marginal lighting situations where a flash is not desired, and tends to produce sharper images at low light levels. I believe this is because the camcorder utilizes the larger aperture size of the lens on the unit, gathering more light than the mediocre lense on the still camera. Not bad for a six year-old camcorder.
Here's another funny thing about pixel size. New cameras keep getting larger picture sizes (some consumer cameras are running eight megapixels these days), but these resolutions are only needed for printing on paper. The pictures on the right, for instance, each use about 0.23 megapixels out of the 1.3 megapixels that came out of the camcorder. If I took these pictures with an eight megapixel camera, they would still be about 0.23 each by the time they got posted on the internet. That's the way it works.
Oh, and did I mention that the kids really like the flip screen on the camcorder? It lets them look at themselves when they're in front of the lens. It's a fun diversion.
More yard cleaning on the docket. Only a trace of snow remains on the ground in two places in the yard, and I expect these to disappear by the end of the week. I am also running the utility trailer over to our old house: now that the snow is mostly gone we can get to our lawn furniture, canoes, kids outdoor toys, and all the other remnants of our old life before we moved.
Lastly, I've got a surprise coming. I'm not going to say what it is, but all will become clear after May 16. How's that for a teaser?
Posted at 11:00 AM YDT
Updated: Monday, May 7, 2007 11:08 AM YDT