Clearing the East Creek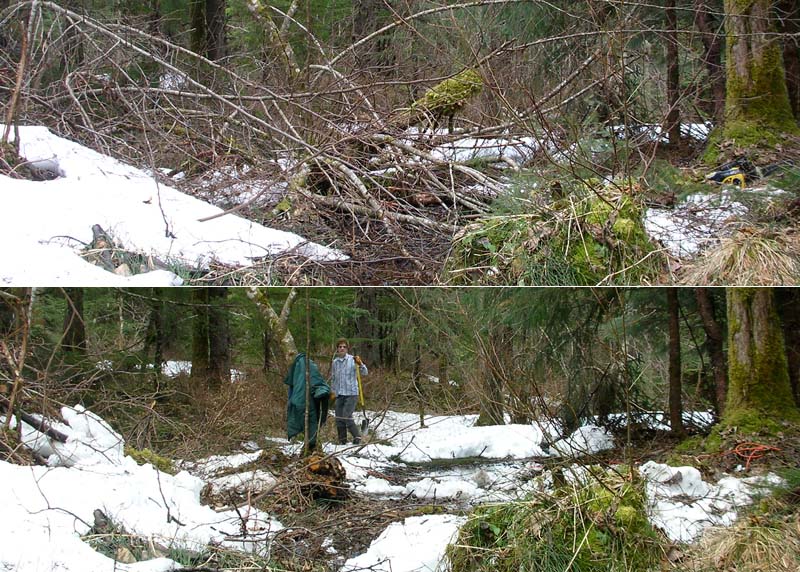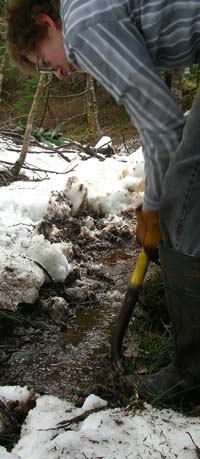 Believe it or not, it took less than ninety minutes to go from the before to the after shots above. Saturday was a big yard clearing day, when I [Michael] worked my way down and up the east creek. Part one was working downstream with the chainsaw, clearing much of the dead branches and overgrowth along the creek banks. Part two was working upstream with a shovel, digging through blockages of mud and decaying branches to lower the creek level.
Areas that used to be underwater are well above the creek level now and the whole lower basin seems to be draining. One pond, and several smaller pools, disappeared completely because of the lower water level. The newly exposed mud is still very wet, but is beginning to firm up while the water drains from it. So far so good. By next week the upper basin should be clear enough of snow, and I can go looking for the streambed up there. The goal is to drain the swampy areas, and so far the work is accomplishing the goal.
The bigger goal is to make the streambanks accessible to the kids. In the areas we've already worked the kids can (and do) get right down to the creek to throw things in the water. Today they both decided to get in. In Michael's case, he began crossing back and forth in one place, which got his pants wet but gave him a great deal of pleasure. Becky went farther and repeated her walk down the creekbed routine, which I gave no objection to until she came to the pond at the south end of the west creek. I told her to stop and come back -- which she did at first -- but then she went right back into the pond again. I just finished telling her that it was a bad idea when she lost her footing and went into the mud (because that's what the pond mostly is), which she really didn't like, and she came to like it even less when I didn't come to her rescue, instead suggesting that she should climb out on her own (which she eventually did). About this time Michael also lost his balance and sat in the creek, so it was time for all to come inside.
We're still losing snow, but we now have much more exposed ground than covered. It certainly makes it easier to see what's going on, and what needs to go on, in our yard.